Well Snoop has been after us, wanting to know when we were going to take him camping. So yesterday we decided to pick up and do it. Snoop was so excited, he was in the Jeep before we had loaded up our camping gear! Before we knew it, we were on our way to Caloosahatchee Regional Park in Alva, FL.
We arrived at the park late in the day, probably around 4:30 PM. The park house wasn't open...
...so we went and checked out the bulletin board.
We looked at the campground map to decide where we might want to camp.
We also saw a notice stating that we were under a fire ban due to the dry conditions. Darn! We had already brought firewood and were planning on cooking dinner and roasting marshmallows over fire. What now?
We finally got to speak with park personnel. She let us know that fires created with regular untreated wood were not permitted, but those created with Duraflame were. We hopped in the Jeep and checked the GPS for nearby grocery stores. On our way out, we spotted an armadillo at the gate entrance.
We'll call him Jerald, because all armadillos are named "Jerald". Hey, I didn't make the rules. That's just how it is. All armadillos are "Jerald", and all spiders are "Fred". Deal with it.
So we went about ten miles to the nearest grocery store (Winn Dixie), and checked there for Duraflame. Nada.
We sat in the parking lot and debated on what to do. Did we still want to camp out if we couldn't build a fire? Did we want to drive another 7 miles to the next grocery store to look for Duraflame so we could have a fire? We finally decided to do it.
We arrived at the next store (Publix), and again no Duraflame. Nada. Zip. Zilch.
Now what? We decided to get charcoal instead, as the girl at the park had mentioned that the camp sites had grills.
We headed back to the park, paid for our site and started loading up our gear.
The park has a parking lot out front, and a line of wagons that you can use to haul your gear to your site.
We had two wagons of gear. Snoop wasn't really any help. He just lounged in the Jeep and then on the packed wagons while we did all of the work.
Walking into the campground, I spotted a weather station behind the park house.
We passed through the gate that blocks vehicles from traveling into the campground.
We rounded a bend on the path, and came to the first spot on the right loop, which is actually the last camp site. This looked like it may actually be a good spot. It was a large spot, there were no others nearby, and the bathrooms were right behind us. This is where we decided we would stay. Site number 25.
Looking up towards the gate entrance...
...and down the path towards our nearest neighbor...
...and the bathrooms and showers behind us.
There was a little showerhead across from our camp site.
I wouldn't be showering here.
We had to work fast, because sunset was only perhaps an hour away. We setup our tent...
...put out the chairs...
...and I started on dinner.
Dinner was Polska sausage, peppers, onions and potatoes in foil packets, and some baked beans (Woodrow's last minute purchase at our last grocery store).
While dinner was cooking, I went to take a shower. They have an outside shower, but at least there is hot water. Woodrow got a shot of my feet when I was in the shower.
He also brought me a flashlight to help me find my way back to camp.
I got some pictures of the shower this morning when it was light outside. You come in the door and lock it...
There is a little ledge for you to put your towel and clothes...
And when you go around the wall opposite the door, you get to the shower...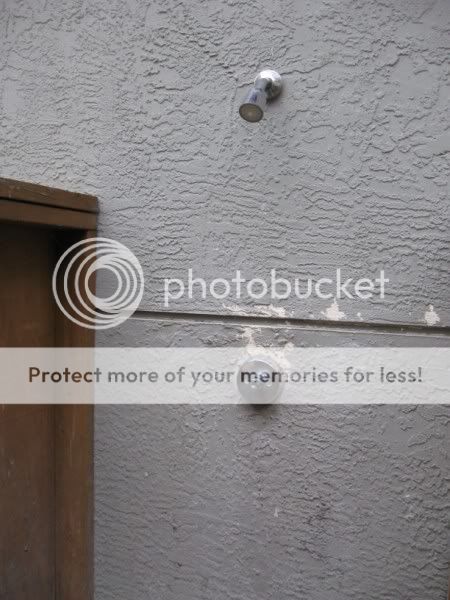 When I got back to camp, Woodrow gave me a headlamp to wear.
Not at ALL dorky looking!
While dinner cooked, I looked at a book, and Woodrow drank that of which we do not speak...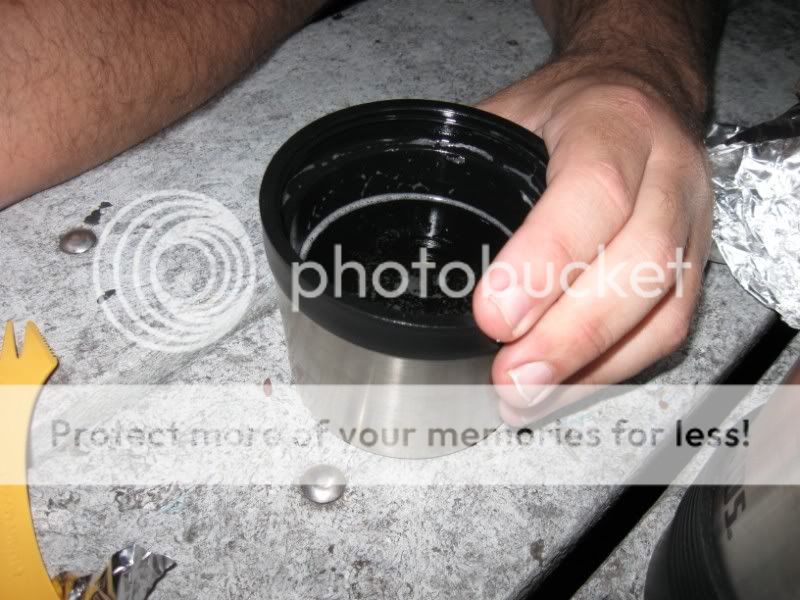 ...since we arrived at the park to find out that it was not permitted within the park. Whenever he would leave the camp for a minute, he would put "that of which we do not speak" undercover.
Snoop wasn't concerned. He lounged by the fire and kicked back with a cold one, unconcerned with rules.
Dinner was deemed ready around 8:00 or 8:30 (funny how time has no meaning when you are camping out.) We had our foil packets...
...and our beans.
Mmmm. Look at that blackened sausage. Yummy!
After dinner we decided to roast marshmallows. However we didn't have a fire to roast over. What to do? I told Woodrow that I would just do what I did as a kid-- use a lighter. (Mom would probably die to know that as a teen I would sit on the living room couch and roast marshmallows over a candle.) Woodrow agreed to give this a try, only to find that our lighter was now out of fluid. What to do?
I will not be deterred!
Now let me explain that I am one of those people who likes a well-charred marshmallow...
Ah, yeah. That is marshmallow perfection.
Full of melted gooey-ness!
After we cleaned up and took some of our food stuffs back to the Jeep for safe-keeping during the night, we headed into the tent to relax. It was about 9:00 PM.
This was the shot inside the tent, looking down at our feet...
...and up towards our heads.
This morning we awoke early, and I remembered that the time had changed. So while the clock said 7:30 AM, it was 6:30 AM by my biological clock. After 20 minutes or so I got up and headed to the bathroom to brush my teeth and change my clothes. I was drying my hands when I looked down and saw this.
I haven't identified it yet.
By the way, after I got back from the bathroom, I spotted Snoop's sword.
Everytime I see it, I'm amazed that it is still there. This little sword is a souvenir from our night out in
New Orleans
, when we went to the Redfish Grill and had drinks. I can't believe that it hasn't fallen out of his pants and been lost yet. (UPDATE 4/11/10: We no longer have the sword. It was lost soon after this camping trip.)
Woodrow started packing up the gear while I took a little time to read and wake up. Then while Woodrow took the first load back to the Jeep, I started breaking down the tent.
The tent. Let me tell you about my tent. I love my tent. It is a Eureka Spitfire 2.
Last night we loosely put on the rainfly, just for the privacy-- not because we worried about rain.
I bought my tent because it was mostly mesh, which is what I wanted.
I wanted to be able to look up through the roof of the tent and see the stars, and see what was going on around me. And the mesh is so fine, that it will keep out everything. Even the droplets of water on the underside of the rainfly stayed out.
The only real drawback in my eyes is the snug design.
It is roomy and comfortable for a single person. It is a little snug for two. If you are used to sleeping two to a double-sized bed, this tent may be fine. But otherwise it is a little tight for two people plus gear.
That being said, I love my tent!
After we packed up camp, we had a quick breakfast of vanilla yogurt and chopped fruit and granola...
...and then we went for a little walk around the campground. I noted which sites I liked for the future. On the way, we heard a strange sound. We found that it was coming from this little bird.
I haven't identified him yet, but he made a very unusual sound that I hadn't heard before. I think he was coming down for water. (UPDATE 4/11/10: I believe that this is a Catbird. The weird call that it kept making was a MEOW sound.)
I also spotted lots of vines. We have lots of vines around south Florida.
These, of course, come in handy around creeks for swinging! Kids enjoy them, but many of them are potato vine or Kudzu, both of which are invasive non-natives that are smothering out native species.
As we walked along, I spotted a grapefruit in the bushes. Huh?
How did that get there? Then we looked up.
Ah! A grapefruit tree! Then I remembered that this property used to be owned by a farmer, and there were lots of different fruit trees and bushes located throughout the park. Last time Snoop and I
came here
, we spotted an orange tree in the woods.
We spotted other walking trails...
...but we didn't have time to check them out. We had plans to go kayaking at 10:00 AM.
We went up to the entrance to look for the hosts who would hook us up with kayaks, but we didn't spot them. So we hung out for awhile. Snoop spent sometime lounging on the Jeep while we waited...
...before joining us over by the bench.
Finally the hosts showed up, we paid for our kayak, and then headed over to the launch site to meet them.
We got our kayak, and Snoop settled in. He never helps out.
We headed out into the water, past the dock and through the lily pads.
The lily pads are pretty, and some boast a lovely yellow flower.
Just after we passed the dock, a woman on the dock told us that her son had just spotted an otter in the water. We looked for it, and we found it.
She was very playful and inquisitive. I think that she's used to being fed by people, as she kept popping up near us and getting closer, as if anticipating our feeding her. She was so quick, that I had a hard time getting any shots of her, but I did get a few.
Snoop was in love. She was a beauty. She was charming. He couldn't get enough.
But we had to intervene. We knew that this couldn't be. It was doomed. He's a stuffed doll that lives on a shelf in an office. She's a beautiful water creature that has fish breath. They just weren't right for one another.
We went a little further down, and we spotted this guy up on the bank.
He was a big boy. Ahhh. This was probably the mate of the pretty girl we had seen before. Snoop understood now that it was best that he had given up his pretty girl. She already had a mate. He didn't want to break up a family.
I got some video footage of the big guy. Sorry for the low quality of the video. It is hard to see my camera display in the sun, so I am constantly shifting it around to try to figure out whether I'm looking in the right place.
He had a "back entrance" into the water, where he would head down towards the water, but would never appear at the water's edge to the right. Suddenly straight in front of us we would see him peeking out at us from "UNDER" the land in front of us. There evidently was a little hole there allowed him to slip down into the water unseen. Very cute! Unfortunately he was so hard to get a good shot of that the picture above was the only good picture, but I got video, baby!
Here are some other photos from our kayak trip out:
This was looking down the river towards the Gulf of Mexico, but you have MANY miles to get to the Gulf!
And a shot looking across the river.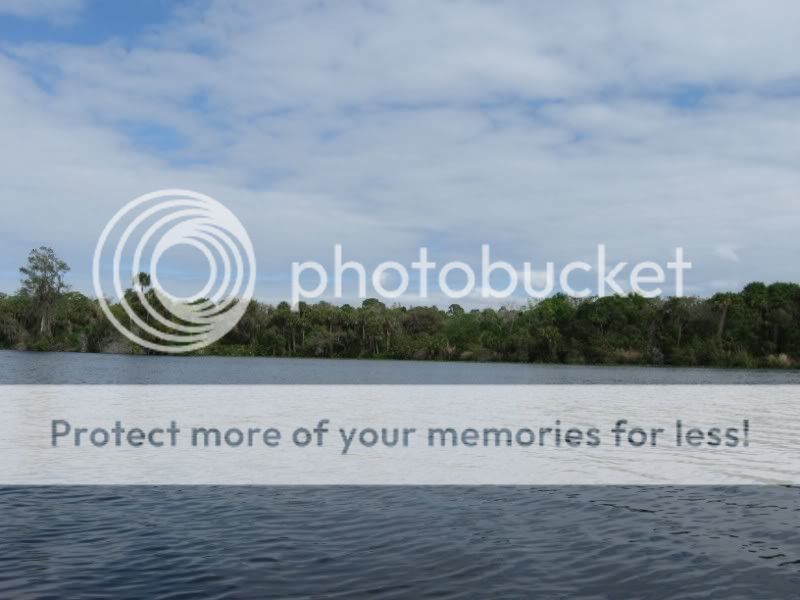 I loved the look of this pink tree from the distance. I didn't get close enough to see what it was, but suspected it may have been a Hong Kong Orchid.
There were a couple of these "corrals" around.
We suspected perhaps they were for crab traps, and the corrals kept them from drifting around the river.
I loved the look of this "parasitic" tree.
There were lots of boats out on the river.
At one point, a plane flew overhead. I had a hard time getting my camera out in time.
We went around one of the islands that that Army Corp of Engineers cut out, in order to look at some large boats that were docked at an inn.
While back there, I got these shots of a "field" of lily pads...
...and this barn.
This was the place where the boats were moored...
I actually don't know whether this is an "inn", or just someone who allows boaters to moor there. I think that might be the case.
This was a shot from across the other side of the river.
There are an amazing number of cows located along the Caloosahatchee River.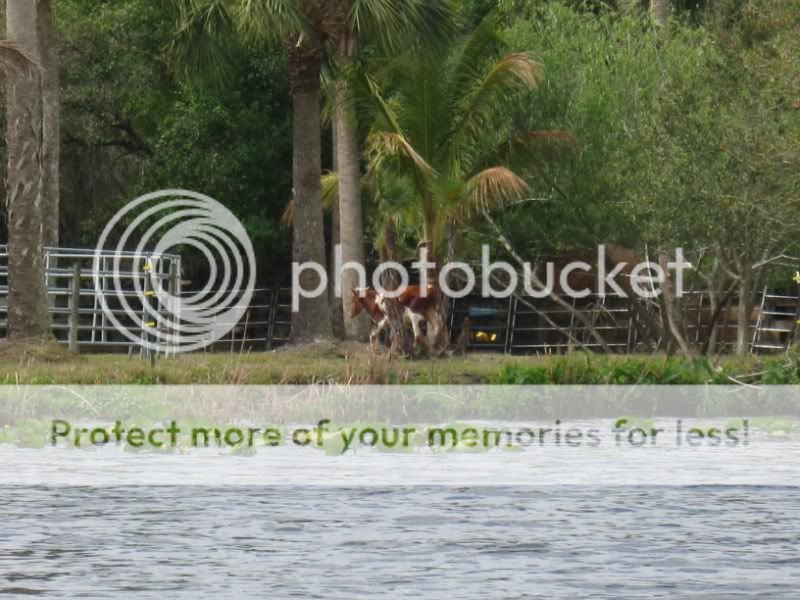 We slipped down a little tributary off of the river, and were warned by some inhabitants that were heading out on their boat to be careful, as there were gators a little further on. We went a little further and got this shot...
...and then turned around to head out. We weren't in the mood to deal with gators!
On the way back out to the river, I spotted this mailbox and wondered what it would be like to be the postal person that dealt with THAT!
A mailbox up on a post on the dock! Since I didn't see anything else like this on the river, I have to think that it is a 'joke' or just for decoration.
While out on the river, I liked the look of this dock with the patio furniture set out.
I think that the dock was at the same house with the three chairs.
For some reason, I didn't get a closer shot of the three chairs. I loved the look of them.
We spotted this boat dock, with a rope swing and lighthouse on top.
On the way back to the park, I got some shots of the lovely vegetation.
After we returned to land and left our kayak and gear, we had to walk back to the parking lot. On the way I got some shots of vegetation and life still unidentified.
On the side of the path, we spotted this muddy ditch just *full* of tracks.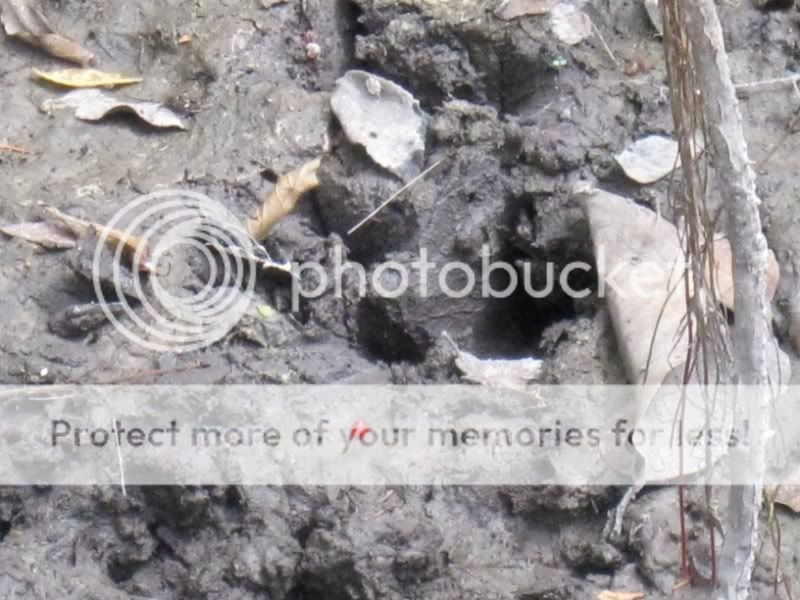 Some of the prints looked like large and small pig hoof prints, so I am thinking that perhaps there was a wild sow with piglets around here. There were also some small prints like perhaps an opossum or something, and maybe raccoon. (UPDATE 4/11/10: When I went by here this weekend, this same area was full of water, after the heavy rain we've had this "dry season".)
I spotted these berries that looked like blueberries, but haven't yet identified them for sure.
We saw a couple of these zebra butterflies flitting around.
At least, I think that they are called "zebra" butterfly.
I remember that these berries used to grow on the pasture fence next to my house when I was a kid. I don't remember what they are called, but remember that they are supposed to be poisonous.
This lovely flower was just growing out of the dead leaves.
I think that this might be grapevine.
There was this lovely little pink flower.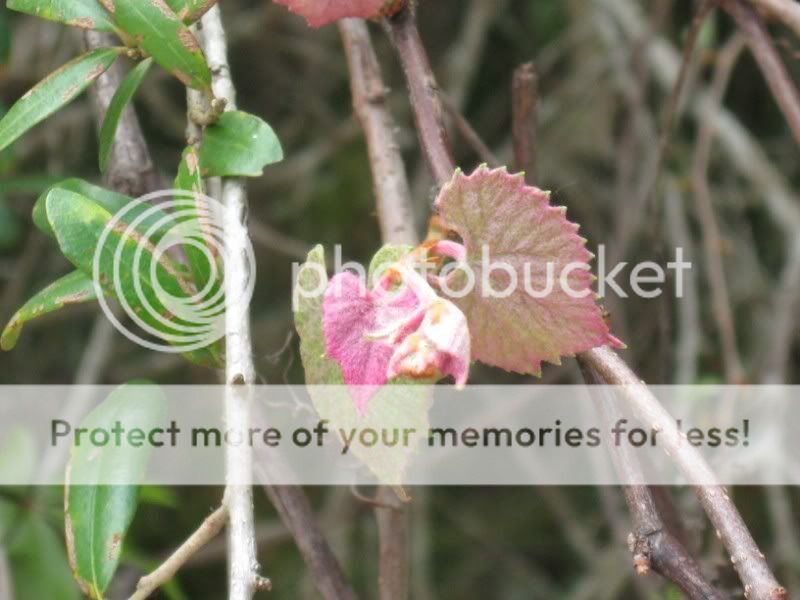 And there was this interesting shrub that had this "pincushion" fruit that dangled from it.
We spotted this palm tree, which looked to me to be a "bear tree", used by a bear to mark it's territory.
I know when I was here last year for my "
Women's Weekend
", I had heard that there'd been reports of a bear in the area. (UPDATE 4/11/10: I doubt bear, as they've said that bear have been tracked to the park as they pass through it, but have never actually been seen by anyone on park grounds. So I would guess that this was more likely caused by raccoons or maybe even squirrels using the bark for their nests or something?)
Speaking of my weekend here last year, we took the trail back that passes the lodge where we stayed last year for our weekend.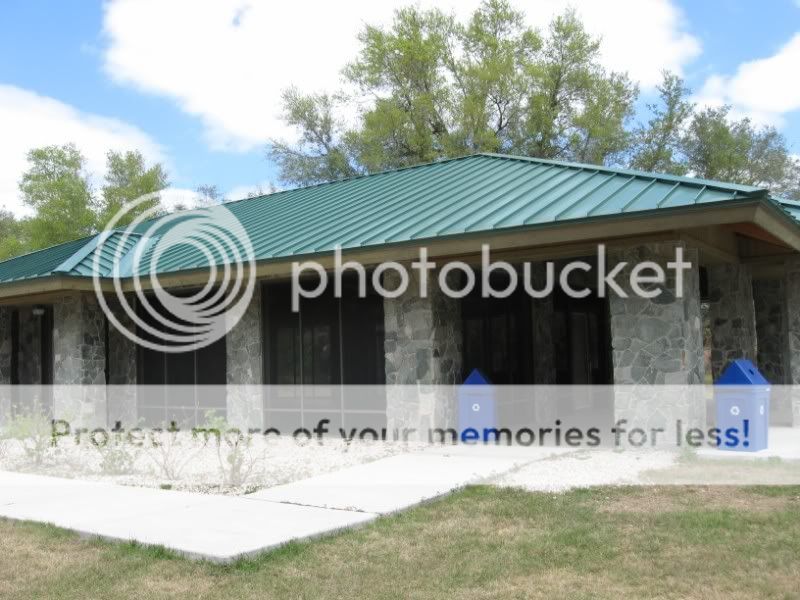 Last year I was camped under this tree.
Woodrow spotted this scat under a palm next to the lodge, and pointed it out to me.
He knows how I love me some scat! (I'm fascinated with trying to determine what animal left it behind. I know. Weird. I also love the smell of skunk. Okay? Don't ask.)
So that was the extent of our trip this weekend. On the way home, we did get slowed down by an accident.
On the way home, we swung by my mother's house. While petting her dog Katy goodbye, I looked down and saw THIS right next to us.
Looks like a Wolf Spider. Anyone who knows me knows that I have arachnophobia. However I am fascinated by that which freaks me out! So we had to break out our cameras and get pictures! We put down a quarter to give size perspective. He was a little bigger than a quarter.
Freaky!
Mom was worried that I would run over him when I was leaving, so she tried to scoot him into the grass using a stick. He wasn't having any of that and ran right towards me instead! He wound up under my truck. I told her that I just didn't want him under my tire. She nudged him a little further and then said, "OK! Go now! Really fast!" I did, and the spider survived and ran off into the grass. We respect all life and try to live with compassion and do what we can to not kill anything. We do catch-and-release whenever possible.
So that's how we ended our weekend. It was fun, and we'll have to see whether I make it to this year's Women's Weekend, which will be out at the same lodge again.
And maybe Snoop will quiet down for a little while. He should be on his best behavior, if he has any hope of coming with me to my Women's Weekend again this year!